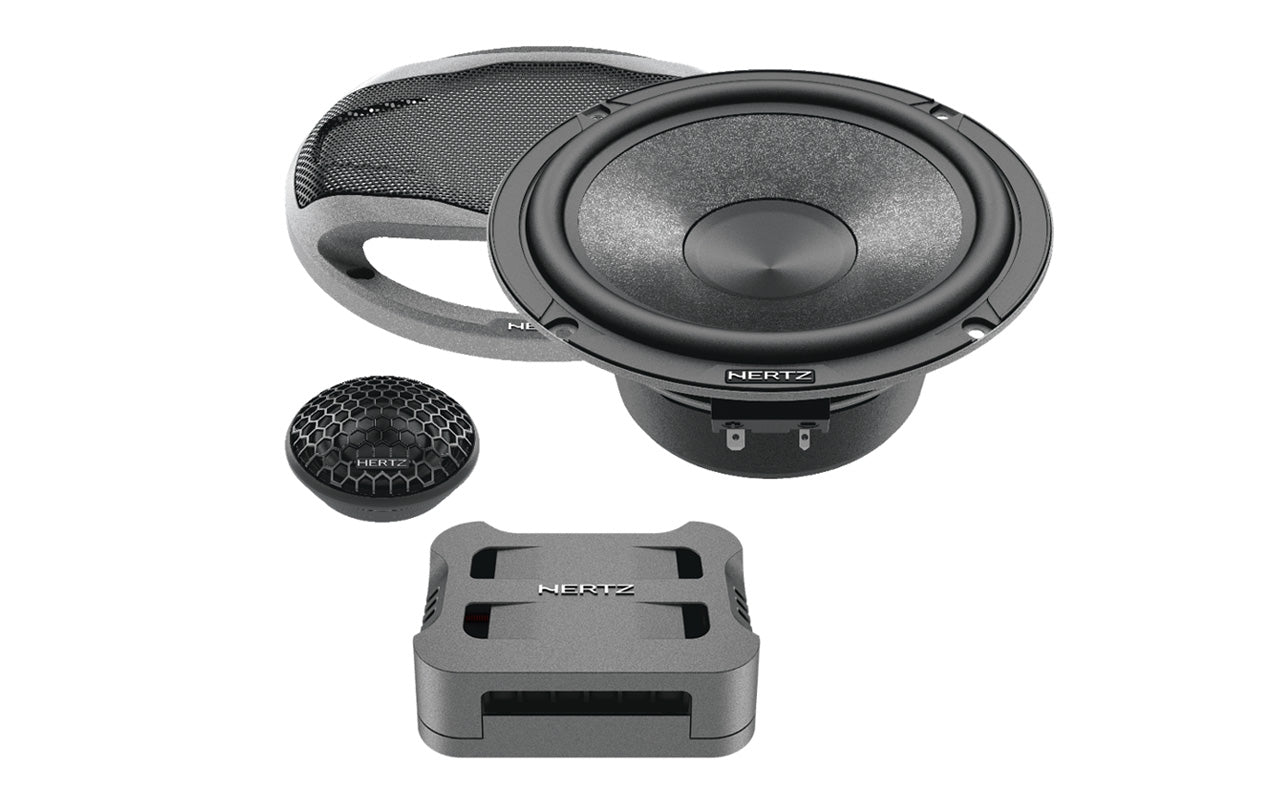 CK 165
System
Two-way systems Cento CK 165 features the new C 26 tweeter featuring a 26 mm (1 in.) Tetolon® dome and 20 mm (0.8 in.) voice coil for a detailed and natural reproduction of medium-high frequencies. The R&D team worked extensively to optimize the C 26 dispersion characteristics to maximize performance on the listening point, with a natural and progressive roll-off and a natural timbre that favors frequency linearity. Much time was invested in the research of the perfect material for the C 165 woofer cones: through a long process of customization of the materials SPP-M was selected (Semi Pressed Paper-Mica), which preserves the natural sound of the semi-pressed paper and enhances it with Mica powder improving rigidity.
The result is an excellent balance between lightness and damping, essential for a powerful and controlled emission. The oversized ferrite magnet provides excellent control even at higher excursions. The ultra compact CCX 2 crossover featuring tweeter emission level control (0, +3 dB) uses selected components for a full and engaging sound. The CG 165 grilles included in the Cento systems brighten up the car interior with their sophisticated design. Made of high resistance ABS with metal mesh, they offer a high degree of protection within a compact size, ideal for in-car installation.
Power Handling - Peak

 

W
285
Power Handling - Continuous

 

W
95
Impedance

 

Ω
4
Frequency response

 

Hz
55 ÷ 22,5k
Sensitivity

 

dB SPL
93
Voice coil Ø

 

mm (in.)
Woofer 25 (1)
Woofer size

 

mm (in.)
165 (6.5)
Tweeter size

 

mm (in.)
26 (1)
Woofer magnet
High density flux ferrite
Tweeter magnet
Neodymium
Woofer cone
Semi Pressed Paper-Mica
Tweeter dome
Tetolon®
Crossover type
2 Way Passive Crossover
Crossover cut off
2,5 kHz @ 12 dB Oct.
Installation kit
An installation kit is needed for proper installation on your vehicle
Choose your vehicle
Vehicle

Not selected

Not selected

Not selected

Not selected

Not selected

Not selected

Not selected

Not selected
Continue