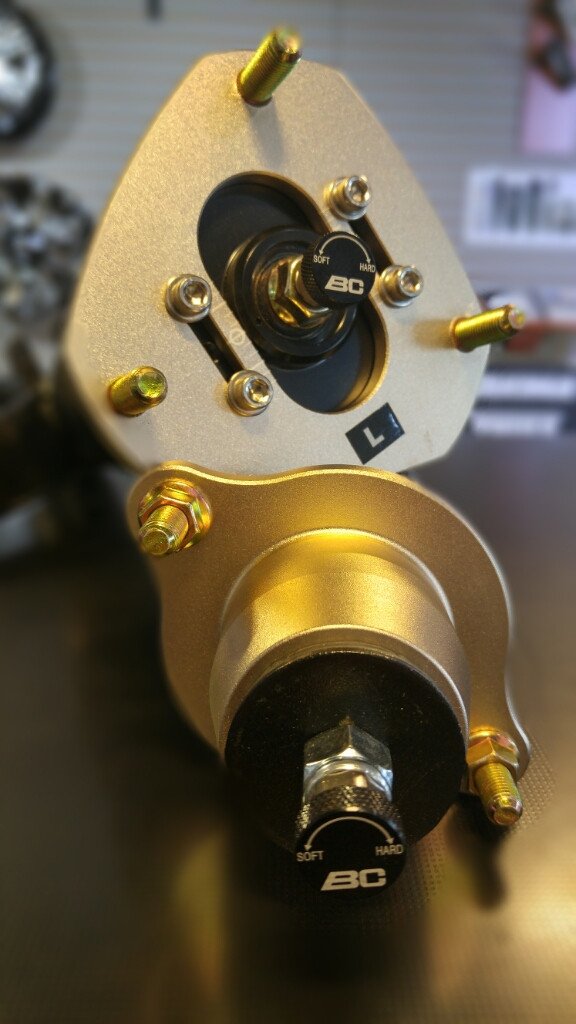 Le modèle de la série BR est le choix parfait pour la conduite de rue et le lapping.
Avec des boutons de réglage facilement accessibles pour l'ajustement de la compression et un rebondage précis, un réglage de la hauteur indépendant de la course de choc et du ressort, un système de coilover performant n'a jamais été aussi simple.
Le conducteur choisit à quel point le véhicule est bas ou haut (aucune hauteur de roulage prédéfinie.) Et une bague de blocage inférieure concave brevetée de BC Racing la maintient fermement en place.
Les topplates ajustables avant BC Racing permettent également au conducteur d'obtenir la configuration d'alignement parfaite sans compromis. Chacune de ces fonctionnalités est offerte, tout en offrant un système coilover fort et attrayant à un prix raisonnable.
CONCEPTION DES SHOCKS MONO-TUBES.
PISTON LINEAIRE ET COURBE D'AMORTISSEMENT.
RÉGLAGE DE LA HAUTEUR PAR LE SHOCK, PAS LE RESSORT.
30 NIVEAUX D'AJUSTEMENTS D'AMORTISSEMENT (COMPRESSION / REBOUND) SIMULTANÉMENT.
CAMBER PLATE AVANT STANDARD SUR LES KITS APPLICABLES.
CAMBER PLATE ARRIERE SUR LES KITS APPLICABLES.
POSSIBILITÉ DE COMMANDER LE SPRING RATE PERSONNALISÉ SANS FRAIS.
GARANTIE LIMITÉE D'UNE ANNÉE CONTRE LE DÉFAUT DU FABRICANT.
REBUILT POSSIBLE, TOUTES LES PIÈCES SONT DISPONIBLES POUR L'ACHAT.
** Veuillez noter que tous les véhicules n'utilisent pas de top plate à l'avant et / ou à l'arrière. Certains véhicules réutilisent les top plates d'origine (OEM)
Chaques ensembles est fabriqués sur mesure pour votre véhicule, livraison rapide, prévoir entre 10 à 12 jours.
-------------
The BR Series Model is the perfect choice for street driving and the occasional road course or autocross duty. With easily accessible adjustment knobs for fine-tuning compression and rebound, ride height adjustment independent of shock stroke and spring preload, having a performance coilover system has never been easier. The driver chooses how low or high the vehicle sits (no preset ride height here!) and a BC Racing patented concave lower locking ring keeps it locked securely in place. Most systems can be upgraded to pillowball mounts to proved the most feedback possible from the suspension and to sharpen steering response. BC Racing front camber plates also allow a driver to get the perfect alignment setup without compromise. Each of these features is offered, while providing a strong, attractive coilover system at a reasonable price.
MONO-TUBE SHOCK DESIGN
LINEAR PISTON AND DAMPING CURVE
HEIGHT ADJUSTMENT VIA SHOCK BODY, NOT SPRING
30-CLICKS OF DAMPING ADJUSTMENT (COMPRESSION/REBOUND) SIMULTANEOUSLY
FRONT CAMPER PLATES STANDARD ON APPLICABLE KITS
READ CAMBER PLATES AVAILABLE ON APPLICABLE KITS
CUSTOM SPRING RATES AND SWIFT SPRINGS AVAILABLE FOR MOST APPLICATIONS
CUSTOM VALVING AND/OR VALVING PAIRED FOR CUSTOM SPRING RATES
1 YEAR LIMITED WARRANTY AGAINST MANUFACTURER DEFECT
FULLY REBUILDABLE WITH ALL PARTS AVAILABLE FOR PURCHASE
**Please note that not all vehicles use camber plates in the front and/or rear. Some vehicles reuse OEM upper mounts.
Installation kit
An installation kit is needed for proper installation on your vehicle
Choose your vehicle
Vehicle

Not selected

Not selected

Not selected

Not selected

Not selected

Not selected

Not selected

Not selected
Continue